The projects in the "Custom" section are products that are customly made with the customers specifications. If you also want to create your own product, visit our custom web page
Fire hydrant management
The electronic card designed by Atim secures the management of fire hydrants by reporting in real time every information related to them : 24 hour a day monitoring, consumption calculation, alerts in case of fraud or tipping over, ect. The communication is based on the Sigfox network.
The challenge was to design a very small electronic card capable to work in very cold, hot and humide environments, and even be able to be in the water for many days. Our engineers developed and designed a special antenna for this harch environment. One of the main points was to garanty a perfect Sigfox coverage.
With the Sigfox network deployed in France for outside applications, the challenge is taken. This sort of project was impossible with GSM communication that is very expensive and consumes too much energy.
---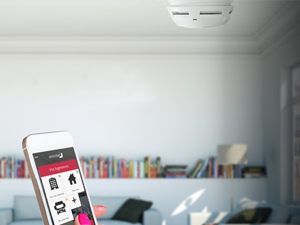 Smoke alarms management
The ARM-NANO module was selected by the smoke alarm manufacturer for its RF performances and its low consumption in "local mode", and also for its capability to easily switch between different technologies (Sigfox, LoRa® RF, LoRaWan®, FFSK, etc…). The smoke alarms concept is to always listen to the other alarms so that if one detects a fire, the whole building will be alerted.
---
Radio communication between two industrial scales
It is a historical customer that made ATIM start making radio modems ! An old Lutrana employee, my former partner Joseph PAUDIC and I started Radio-communication for this company. The idea was to connect two scales between themselves with a wireless technology. Back then (1992), Wifi didn't exist and we invented one the first wireless communication systems. We designed many custom versions all in stainless steel for different types of scales (CARAT, ATOLL).